GROUP CLASSES - Guitar & Ukulele for Adults & Teens
GROUP CLASSES - Guitar & Ukulele for Adults & Teens
GROUP CLASSES - Guitar & Ukulele for Adults & Teens
GROUP CLASSES - Guitar & Ukulele for Adults & Teens
GROUP CLASSES - Guitar & Ukulele for Adults & Teens
GROUP CLASSES - Guitar & Ukulele for Adults & Teens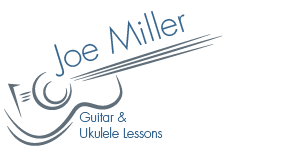 COMMENTS FROM STUDENTS AND PARENTS
"I've been taking group guitar class with Joe for a couple months and I have learned so much. I really enjoy the group aspect because we get to be social, laugh a bit, and work together. Bonus teacher nerd points because as a piano teacher, I learn a lot from Joe about how to conduct a group class - a rare and little-discussed aspect of music teaching. Joe's years of experience have come through in my playing in a short time. Highly recommended!"
​
​
"Joe combined rigor and high expectations with a calm demeanor and gentle sense of humor. His wide-ranging selection of music kept my son engaged and challenged, even during middle school, when so many children give up their instruments."
​
"I've been taking music lessons since I was 8, and Joe is hands down the best teacher I've had. It's a pleasure to go to class every week. He's patient, funny, an excellent player, and it's obvious he not only loves to play, but loves to teach. In spite of taking guitar lessons off and on for almost 30 years, I never really understood my instrument, or how music functions, until now."
​
"Joe is a very patient teacher, the class is very laid back and a very pleasant learning atmosphere for adults. It's easy to ask questions, no pressure but still very encouraging. You don't have to know how to read music to participate, but it helps. I recommend it because it's good brain exercise, fun, a great distraction from work and stress, and after all, it's a ukulele!"
​
​
"I decided to try the Ukulele in my retirement and I love it - mostly because of Joe. He loves music and is patient and encouraging even, occasionally, giving out "gold stars." His method of teaching using familiar songs and encouraging repetition and listening to each other results in a fun time of playing with a group as we gradually improve. His subtle sense of humor provides a relaxed atmosphere. Lots of fun! Try his lessons!"
​
"I'm a big Joe Miller fan. Not all good musicians are good teachers. Joe is both. He can demonstrate technique, and explain music theory. Joe knows music and he knows how to pass that information on to his students, both playing and understanding how music works. He's a very good teacher."