GROUP CLASSES - Guitar & Ukulele for Adults & Teens
GROUP CLASSES - Guitar & Ukulele for Adults & Teens
GROUP CLASSES - Guitar & Ukulele for Adults & Teens
GROUP CLASSES - Guitar & Ukulele for Adults & Teens
GROUP CLASSES - Guitar & Ukulele for Adults & Teens
GROUP CLASSES - Guitar & Ukulele for Adults & Teens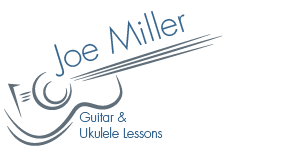 Joe Miller's reputation as a teacher has brought him thousands of students, including musicians like Dr. Elmo, Country Joe McDonald, John Fogerty's son Shane, Mary Gibbons of the Fog City Ramblers, and Owen Roberts of Shady Maples. Reviewers have called his music "mesmerizing," "stunning," and "vastly entertaining." Joe is an established guitar and ukulele teacher in the Bay Area, and has taught at San Francisco's Community Music Center, UCSF, Mt. Tamalpais Community Education, Eric Schoenberg Guitars in Tiburon, Tupper and Reed Music and Freight and Salvage in Berkeley, and Puget Sound Guitar Workshop. His teaching emphasizes good technique, rhythm, reading music, and knowing basic music theory. He teaches students from 5 to 95, and beginners are welcome.
​
BIO
Joe Miller is a humorist, singer-songwriter, and an award-winning acoustic guitarist. He pokes fun at modern life with songs like "Racing Off to Yoga Class" and "Are You from Berkeley?" Playing a custom-made Martin guitar, Joe has performed across the U. S. and Canada. His off-beat humor and dazzling instrumentals have been well received from Berkeley's Freight and Salvage and the Throckmorton Theatre to festivals in California, Canada, and the eastern U. S.
After studying classical guitar, sitar, and Renaissance music in Toronto, Miller settled down to master his original instrument, the acoustic steel string flat top. He moved to the Bay Area in 1978 and won both the California State Flatpicking Championship and the National Fingerstyle Guitar Championship in Winfield, Kansas. He has composed music for Berkeley Repertory Theatre and performed at UC Berkeley, UC Davis, and several Bay Area high schools. His arrangements have been published in several magazines: Acoustic Guitar, Fingerstyle Guitar, and Fiddler. Besides his solo performances, he has recorded music for films and played with Stony Broke and the Insufficient Funds, various professional theatre companies, and Gin and the Supertonics.
Joe succeeded in getting the words "fingerpicking" and "fingerstyle" into the major dictionaries, simply by writing to the dictionary editors and pointing out that these words have been in use for nearly a hundred years, yet somehow had been overlooked. Joe has performed with fingerstyle guitarists Duck Baker, Martin Simpson, Eric Lugosch, Peppino D'Agostino, and many others.
JOE MILLER'S RECORDINGS
Joe's two CD's, West Coast Music for Guitar and Semi-Traditional Guitar Solos, including two duets with mandolin master David Grisman, brought rave reviews:
Mesmerizing, astounding... a virtuoso in every sense of the word. - The Daily Californian.

Awesome solo acoustic... a real talent. - Guitar Player.

Stunning, vastly entertaining... you have to marvel at the man's technique. - Folk Roots, London
Other reviewers compared him to John Renbourn and Leo Kottke, who are among Miller's musical heroes. Both of Joe's CDs of traditional and contemporary instrumentals are available from CDBaby.com: http://www.cdbaby.com/cd/joemiller
JOE MILLER ON THE WEB
Listen to Joe on Pandora.com, performing The Bricklayer's Beautiful Daughter; Ivory Coast; Limerock; Dejavalse, The Green and Gold Take the Cakewalk; and other pieces. http://www.pandora.com/joe-miller
JOE ON YOUTUBE
Performing instrumentals: Ivory Coast; Fortune Cookie; Gary's Stomp; For Elise Blues; and Two Songs at One Time.

Teaching: Fire on the Mountain; Old Joe Clark.
​​​​​